Awesome things come out of New Zealand. Milk. Corned beef. The haka. The Lord of the Rings Trilogy. Lorde's debut album. And as if NZ wasn't already blessed enough, it also has Taika Waititi, of What We Do in the Shadows, the insane romp of a vampire movie about  fanged roommates just trying to get along in the age of the internet.
I've  slowly been building up to Thor: Ragnarok by getting familiar with its director's body of work. So far I've seen Hunt for the Wilderpeople (Happy Birthday, Ricky Baker!) and What We Do in the Shadows. Both have deceptively simple premises, relatively low budgets and the wickedest sense of humour.  If Taika Waititi has brought even half of his sense of the ridiculous to Thor Ragnarok, then I have high hopes for that movie, because I have decided that What We Do in the Shadows is now officially one of my favourite films.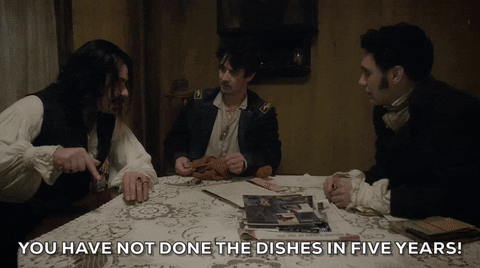 Sharing space with someone else comes with a lot of baggage – it doesn't just get more complicated the more people share the same home, it gets multiplied tenfold by the kind of people they are. And if you're a vampire, who lives with other vampires, each of whom inhabits a particular Dracula stereotype… well. That's what What We Do in the Shadows is all about.
I enjoyed this more than Wilderpeople because Waititi doesn't just direct. He plays a major role as Viago, a prissy vampire fussbudget who wants his flatmates to lay down newspapers and towels if they're going to eat someone on his nice clean couch.
Undone dishes. Orgies. Virgins. Sunlight. Partying with ghouls and witches. Google. Skype. Werewolves, not Swearwolves. Vampire bat fights. Victims. Blood. A group of perennial man-children running around Wellington just trying to live their best lives. It's all very matter-of-fact from beginning to end, and the sheer normalcy in the face of so much absurdity is what makes this movie imminently watchable.
I've seen what Waititi can do on a limited budget and an unlimited imagination. I wonder what he'll do on a Marvel budget, and if he'll make another cameo, the way he did as a particularly strange priest in Wilderpeople. I hope he does. And I hope it'll be a hoot.